Our first trainings during the times of Corona
29. 07. 2020
Good news right at the beginning: As part of the special initiative "A World Without Hunger", the German Federal Ministry for Economic Cooperation and Development (BMZ) has extended our successful project including financing until March 2022. This means that we now have just two more years to strengthen the work of rural women in Kenya. Let's hope that we can soon be on site again, because this is what our project lives from: from personal exchange - from rural woman to rural woman.
Here comes a brief account of what we are doing in our project in Corona times.
Like almost everywhere else in the world, the people in Kenya also have to struggle with Corona.
In Kenya this morning it was officially reported: 17,603 people have fallen ill with Corona and 290 people died of it. Most cases were registered in Nairobi with over 10,000 people affected.
The government tries to gain time to prepare for the pandemic with a strict curfew and the lockdown of Nairobi, Mombasa and some hotspots. Part of the government's preparation is, for example, that each county should have 300 isolation beds and designated Covid-19 hospitals. So far, few cases have occurred in our three counties: Siaya (34), Kakamega (16) and Bungoma (13) - let's hope that it will remain so.
Our planned trips to Kenya (May and Oct. 20) and also the trip of kenyan women to Bavaria (Sept. 20) have been postponed for the time being. Nevertheless we are active - even on a smaller scale. With the permission of the County Governments, events with a maximum of 15 people can be organized, in compliance with all Corona-related regulations. At the beginning of July we held three training sessions for 10 women each on "Domestic violence and what they can do about it".
President Uhuru Kenyatta had addressed the current situation of domestic violence in his speech to the nation on July 6:
".... I am concerned about the increasing tension in our homes. Cases of gender-based violence have increased, psychological problems have worsened, and the number of teenage pregnancies has escalated. I appeal to social institutions, including religious institutions, to take civic responsibility to put an end to these unfortunate trends. We must always remember that the family is a projection of the state. When the family is attacked, the state is attacked. If the family is weak, the country is weak...."
... the next day we started our first training.
The participants learned what domestic violence means, what the law in Kenya is about. They expanded their knowledge in the areas of gender awareness, lobbying and advocacy. They now know how to defend themselves, who to contact and who to inform. Many women were not aware of the legal situation that domestic violence is a crime and is punished as such.
The participants, all of them WoFaAK members, are asked to pass on what they had learned to women, young people and men (also!) in their groups and communities. By the beginning of October they should have reached at least 50 people each.
On the pictures you can see that all of them made a great effort to strictly follow the regulations concerning Covid-19.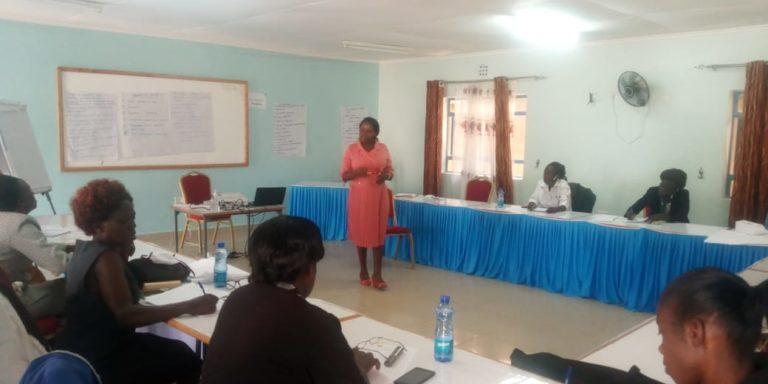 "Training on distance"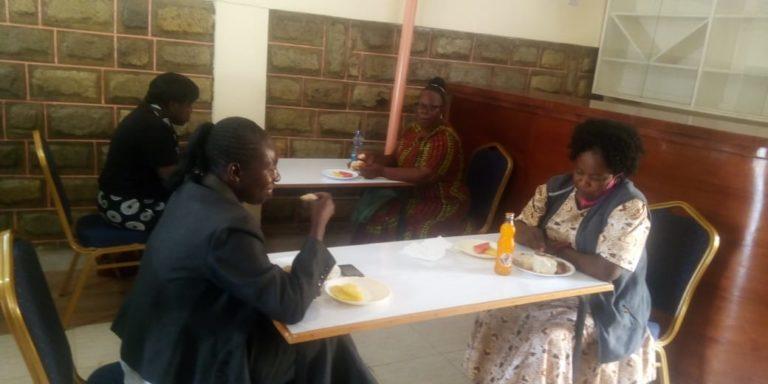 "Lunch in distance"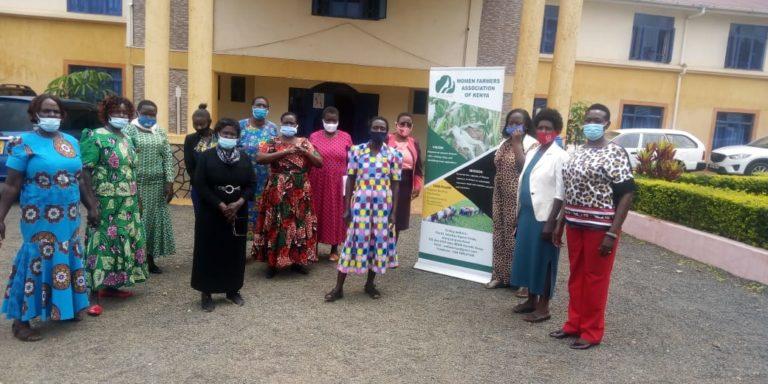 Final picture of the participants of Siaya
We are currently organizing a mixture of meetings and training for the three WoFaAK board members. It is about internal & external communication, correct financial management in the association and how to submit project applications. This would be one of those events where our Bavarian rural women with their years of experience in association life could support the women well .... hopefully we can realize this later.
We are happy to be able to offer "normal" training courses at all. With an online training we would not reach many of our women, because in some areas there is no internet connection and many women do not own a smartphone, let alone a computer.